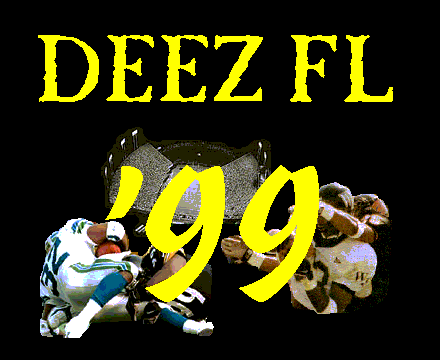 DeezFL is a game I created myself. It is a computer football game. There are now eight teams: Cows, Hulks, Cyclones, NittanyHuskers, Mongooses, ReEnforcers, Catfish, and Mad Goats. I hope to release the full version of DeezFL 2000 in November or December. It should have a season mode, 10 teams, and much more. You can download an early version of DeezFL 2000 below. If you have DeezFL '99 already, it is very similar but there are some noteable changes.
DeezFL 2000 early version
Get the readme file and installation instructions (not required).
Check back in the coming months for new teams and more early versions of DeezFL 2000.
Email me with any questions or comments.