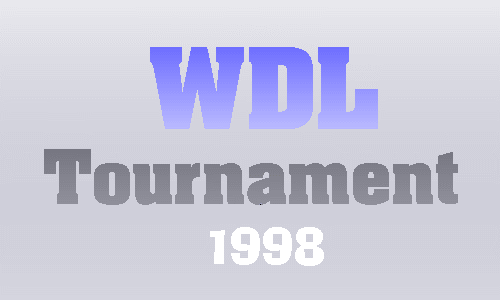 Saturday, August 8, 1998
Tournament Results in Table Form
Place
Singles Tournament
Doubles Tournament
Hotshot
D.O.O.K.I.E.
1
Deez
Merny
Merny
Ben
2
Ben
Deez
Ben
Merny
3
Merny
Jay
Pweg
Deez
4
Jay
Ben
Jay
Jay
5
Pweg
Pweg
Deez
Pweg
Tournament Review
Singles Tournament Deez came into the tournament in the midst of a month long slump in which he was playing only slightly over .500. But he had the #1 seed, and so he was pretty much guaranteed a spot in the 2nd round. He easily took care of Pweg 15-2. But in the next match, Ben once again outplayed him and knocked him into the loser's bracket 15-12. But Deez came back strong winning 15-12 over Jay to get into the finals. The finals were set, he would face Ben again. This was somewhat controversial, because Ben was undefeated in the tournament, but Deez only needed to beat him once to win the title. The match itself was one of the best of the day. Deez went up 2-0, and then the two were even until the score was 13-11. But in one of the most exciting plays of the tournament, Deez nailed his first ace of the match to win the championship.
Doubles Tournament The doubles tournament was also slightly controversial, because Deez, the #1 seed, was placed with the #2 & #3 players as partners. This helped him to go 4-0 in the first part of the tournament. Merny went 3-1, Ben 2-2, Jay 1-3, and Pweg 0-4. The final match was Deez & Ben vs. Merny & Jay (1 & 3 vs. 2 & 4). When these teams played earlier, Deez & Ben won a good match 15-14. This match was again tied at 7-7 (the doubles games were shortened to 8). But in another exciting finish, Merny put up a miracle shot that bounced off Deez's head to win the tournament. Merny was the overall winner.
Hotshot In the first of the skills competitions, Merny, a late entry, put up an amazing first-round 96. But he was topped by Ben who was on fire scoring a record 108. These two would meet in the finals. Ben went first and posted a mediocre 88. Merny easily passed him with a score of 106.
D.O.O.K.I.E. Due to time constraints, DOOKIE was shortened to DOOK. The game was slow moving at first, but picked up as Pweg and Jay were eliminated early. Deez went down next, and Ben & Merny were again left in the competition. Merny nearly put it away, but Ben made a run at the end to win DOOK to DOO.